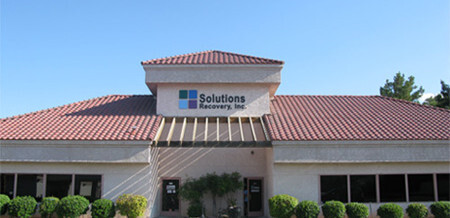 Incorporated in 2005, Solutions Recovery, Inc.(SR) is an alcohol and drug treatment facility with offices at 2975 South Rainbow Boulevard.  Solutions Recovery provides outpatient, partial care, residential detoxification and residential treatment.  Solutions Recovery also treats co-occurring disorders of anxiety, depression, eating, gambling and trauma.
SR had been leasing 15,000 square feet of space, but thanks to Nevada State Development Corporation (NSDC), David Marlon, president of SR, was able to secure a $1,856,495 project loan with the JP Morgan Chase Bank portion being $928,248 and the SBA debenture amount covering $765,000.
This loan has allowed Marlon to triple the business by adding 27,000 square feet and enlarging the center to 40,000 square feet. "We've helped thousands of Nevadans get clean and separated from alcohol and drugs," said Marlon. "Las Vegas gets the most acutely addicted patients in the world and has some of the best world renowned board certified doctors helping with treatment programs in Las Vegas."
"I'm so happy with the federal government and NSDC for making available a loan at an attractive interest rate for a little business like mine to purchase 42,000 square feet of space," said Marlon. "It allows us to help our patients and clients in Las Vegas with a campus that is spacious and welcoming with a full array of amenities."
Marlon, himself a recovering person, which is a lifetime journey, can present alarming scenarios. He says there is an alarming rise in children 13, 14 and 15 years old becoming addicted to heroin.
SR offers 15 weekly 12-step programs with meetings held at all hours of the day, 365 days a year. With as little $1 donation collected at each meeting, SR can pay their rent. For Marlon, this project is the most rewarding thing he has ever done, so much so, that he may look to open a center in Reno.
For more information, visit http://www.solutions-recovery.com/.