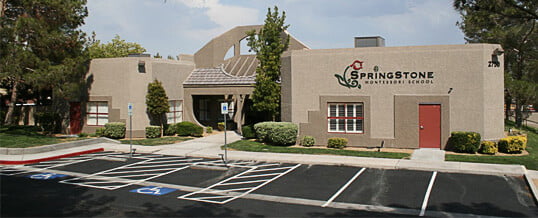 Nevada State Development Corporation (NSDC) partnered with JPMorgan Chase Bank to assist SpringStone Lakes Montessori School with an SBA 504 loan, allowing the family-owned and managed business to open a second Las Vegas location that provides traditional Montessori education for children 18 months to 6 years old. The new location is at 2750 Lake Sahara Drive in Las Vegas.
"We wouldn't have been able to do this loan at all without the help of NSDC," said Scott Knight, director of administration for SpringStone, who owns the school with his wife Lori.  "They were just great to work with; very helpful all the way through the process."
Knight notes that they had actually found a location for the new school that didn't work out after almost a year and they had to begin the process all over again.
The original SpringStone Montessori School, owned by Scott's mother Patricia Derrick, has been successfully operating in its current location for six years. The school provides high-quality learning services and leading edge educational programs with certified staff at competitive prices. The family has been in the business of childcare for more than 30 years and most new clients are word-of-mouth through their referral program.
The new school is a more than 10,000-square-feet facility that had to be gutted and consists of eight classrooms, a full-commercial kitchen, an arts and crafts room, and conference room. The three shaded playgrounds are divided between age groups and securely fenced and furnished with appropriate playground equipment and facilities.
"We love working with businesses like SpringStone," said Christopher Hunter, NSDC business development officer. "To see this great school expand to a second location is really gratifying."
SpringStone Montessori School provides a hands-on classroom with learning materials for all the main areas: practical life, sensorial, math, art, music, language, geography, history and science. The aim is to prepare students to excel as young leaders of tomorrow by combining an exclusive curriculum tailored specifically for preschool children with enhanced services. Parents are actively involved through participation in a parent advisory committee providing guidance and approvals of programs and curriculum.
Loretta Knight, president/secretary, earned a Bachelor of Science Degree in Elementary Education from the University of Nevada, Las Vegas in 1999 and a Masters Degree in Education from Lesley University in 2002.  She was an elementary school teacher prior to joining the management team of SpringStone Montessori School in 2006.  She handles the day-to-day management of curriculum and educational services for both Las Vegas schools.
Scott Knight, director of administration, earned a Bachelor of Business Administration Degree in 2003 from the University of New Mexico.  He handles all administrative and financial management aspects of both schools.
Visit www.springstonekids.com to learn more.