What is the 504 Loan Program?
The SBA 504 Loan Program assists small business owners purchase commercial real estate or equipment. Partnering with a bank, the SBA loan provides up to 90% financing at below market, fixed rates of interest. NSDC has a streamlined application process, which means less paperwork and fast approvals. Pre-qualification is also available to help business owners determine if a purchase is the right step.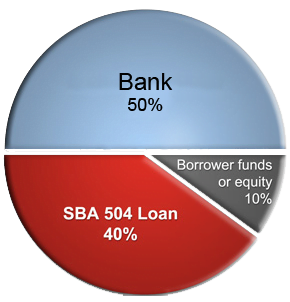 How is a loan structured?
A typical purchase would be structured as follows:
Bank loan 50%
SBA 504 loan 40%
 Borrower equity 10%*
*Single purpose buildings and start-up business are subject to additional borrower equity
What are the terms of the SBA loan?
Maturity: 10 or 20 years. (The borrower selects the term.)
Interest rate: Fixed for the life of the loan.

View our current rates.

Collateral: Second deed of trust on the property and personal guaranty of the owners.
What are the terms of the bank loan?
Maturity: Must be at least 10 years for buildings and 7 years for equipment. Many lenders offer 20-25 year repayment options.
Interest rate: To be negotiated with the bank. Many lenders offer both a fixed and variable rate option.
Collateral: First deed of trust on the property plus any other required by the bank.
What assets can be financed?
Existing buildings: Business must occupy at least 51% of the building (may include remodeling or expansion)
New construction: Business must occupy at least 60% of the building
Equipment: Must have a useful life of at least 10 years