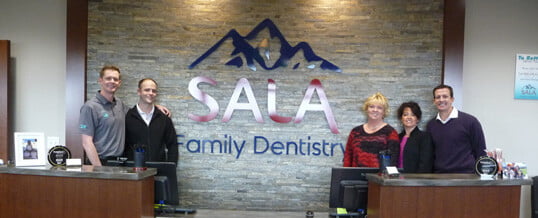 SALA DENTISTRY TRIPLES ITS SIZE WITH LOAN PACKAGE SECURED THROUGH FIRST INDEPENDENT BANK AND NEVADA STATE DEVELOPMENT CORPORATION
Dental practice to expand conventional business as well as free community efforts in Nevada
Reno — Sala Dentistry Ltd. has earned an extraordinary reputation in the Reno dental profession since its founding more than 40 years ago.
The practice was established in 1974 by Dr. Michael Sala, and his sons Dr. Todd Sala and Dr. Jason Sala purchased the practice in 2003.
With an SBA loan through Nevada State Development Corporation, the state's largest SBA 504 loan provider, and First Independent Bank, Sala Dentistry is expanding into a new building that triples its size.
"We see this expansion as an exceptionally advantageous move for the practice," said Dr. Todd Sala, President of Sala Dentistry Ltd. "We had just over 4,150 square feet in our existing location with 10 dental bays and an impressive onsite lab to fabricate implants and crowns. This new building allows us to grow by another 10,000 square feet. The additional space permits us to expand our operations and better serve the community in Northern Nevada."
Roger Kadz, Business Development Officer for Nevada State Development Corporation, said: "This is a thriving business and with this SBA loan, the Salas are able to grow with an additional 18 dental bays and a new pediatric area as well as a 3,000-square-foot second floor for meeting rooms, conferences and office space for employees. Sala Dentistry has been a key player in the local economy for more than four decades, and this expansion represents a tremendous success story for the business."
Sala Dentistry employs 33 people and expects to add 37 new employee, including 10 dentists, with the expansion of their facility. Known for its involvement in the community, Sala Dentistry participates in the Northern Nevada Dental Health Program, providing free dental care to children in need.
Sala Dentistry also hosts educational seminars at local elementary schools and offers a "free dentistry day" where local community members can come in for free services. The practice has provided more than $560,000 in free dental services to the community and has a goal to reach $1 million by 2017.
Sala Dentistry provides all types of dental needs including implant dentistry, cosmetic dentistry (porcelain crowns, bridges, veneers, teeth whitening), general family dentistry (bridges, implants, dentures, partials, root canals, oral hygiene and general cleanings), laser dentistry (Waterlase Hydrokinetic technology), and relaxation/sedation dentistry (specialized procedures and oral medications to ease anxiety).
The geographic market for the practice includes all of Reno, Incline Village, and Sparks, Nevada, and Lake Tahoe, California. Marketing is accomplished by direct mail, TV, internet, giveaways, patient appreciation days and patient referral programs. Patients primarily include families and adolescent children in the area.
For more information on Sala Dentistry, please visit salafamilydentistry.com.