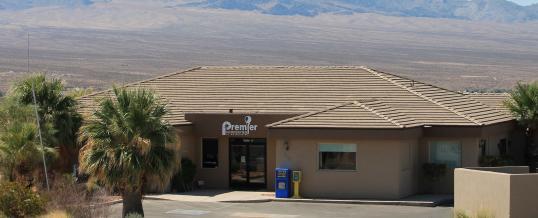 Nevada State Development Corporation (NSDC) partnered with Bank of Nevada to assist Premiere Properties of Mesquite Nevada, LLC with an SBA 504 loan, allowing owner Barry Clarkson to purchase the building Premier Properties had been renting.
Clarkson decided to pursue the option of purchasing the property upon his banker's recommendation. Working with Evan Dickson at NSDC and Dan Wright at Bank of Nevada, Premier Properties was able to purchase their rental space and reduce their monthly costs.
"We've reduced our monthly overhead payment by about $2000 a month by owning versus renting," Clarkson said. These savings improve the overall profitability of the company, increasing this locally-owned business' viability.  Clarkson also noted NSDC was very helpful and made the process of securing a low-interest loan as easy as possible.
"It was really a pleasure to work with NSDC," said Clarkson. "They were very accommodating and worked closely with my staff, frequently making trips from Las Vegas to Mesquite to simply things for our business." Clarkson founded Premier Properties—a residential real estate, sales, and management company—in June 2009. Premier Properties has since grown to become one of the more established real estate agencies in the Mesquite area.
"We were pleased to be able to help Barry and Premier Properties purchase their space," said Dickson. "Seeing an established, small business boost its profitability is exactly why we do what we do at NSDC. Businesses like Premier Properties are incredibly important to the local economy, so it's in all of our interests to see them thrive."
The company operates in the geographic areas of Mesquite, Bunkerville, and the Sun City Mesquite Community. To learn more, visit www.premierpropertiesmesquite.com or call 702-345-3000.