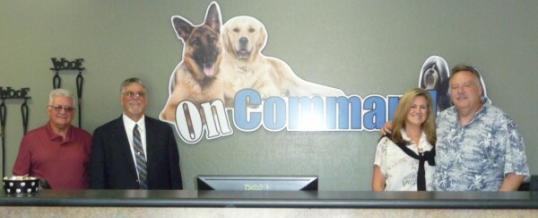 Owners of On Command, Barry O'Dea and his wife, Tracey, recently completed relocating their  dog boarding, training, daycare and grooming services business for a third time in three years. The move to 875 Greg Street, Sparks, NV 89431 is a joyous one because they have purchased the 11,000-square-foot building with the help of Nevada State Development Corporation (NSDC) and Nevada State Bank. The purchase of their own building will ensure that the business will not have to move again and all the improvements they make will be there to stay.
Barry O'Dea has been training dogs for 31 years, including canines for the police department and SWAT teams and has earned the status of certified Master Trainer. Three years ago, the couple opened their On Command business on a month-to-month lease in a building the owner had been trying to sell for seven years. They were there seven months when the property sold and they were given 45 days' notice to vacate.
They moved the business 1.5 miles and leased again. Their second location went into foreclosure and after 19 months they had to move again.  O'Dea met with Nevada State Bank for a loan to buy their own property this time. O'Dea found a place in an industrial park 2.5 miles away that was 3,000 square feet larger with a spacious commercial backyard that he really wanted. However, he had to do about $300,000 in renovations first and the couple had to shutter the successful business for two months because of the unexpected second move.
"Finding and relocating a business of this magnitude wasn't easy," said O'Dea. "Nevada State Bank brought in NSDC loan officer Lenny See for the SBA loan portion. We couldn't have had better people on both sides." O'Dea pointed out that he couldn't start his business by buying property because it takes time in business to get a real estate loan.
In their new facility that he figures may be the biggest in Nevada, they have a staff of 14 well-trained employees and take care of about 40 dogs just with daycare and more on holidays. O'Dea firmly believes that what sets them apart from similar businesses is they offer all four services of dog boarding, daycare, training and grooming in one convenient location. And he adds that when you walk into On Command, it doesn't have a "doggie smell," it smells clean like your house.
Since On Command stayed in the same area, they haven't lost any clients and the business just continues to grow.
To learn more about On Command, call 775-825-3647 (DOGS) or visit http://www.oncommanddogs.com.