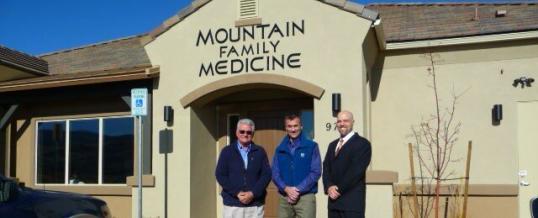 Dr. Ryan Gini and his associates recently celebrated the relocation and opening of their new practice, Mountain Family Medicine. The new office for the family clinic and primary care center is located at 9710 S. McCarran Boulevard in Reno.
Dr. Gini has practiced family medicine in the Reno/Sparks area for over 12 years. He received his medical degree from the University of Nevada, School of Medicine and shortly after graduation, joined the family practice of John R. Lemieux, LTD. During that time, Dr. Gini established his patient-base, which ultimately led to his decision to open his own practice and purchase land and build a building.
Together with Heritage Bank, NSDC was instrumental in providing Dr. Gini with the financing needed to purchase the land as well as construct their new building. Dr. Gini couldn't be happier with their new location and the potential to grow the practice. Now they can provide a more comfortable atmosphere and convenient parking for his patients and provide access to nearby St. Mary's Regional Medical Center, his hospital affiliation.
Pictured above Larry Bell (Heritage Bank), Dr. Ryan Gini, and Lenny See (NSDC):