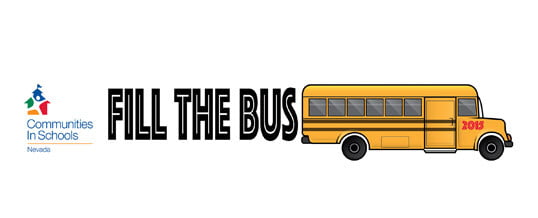 NSDC is collecting supplies for Communities In Schools Fill The Bus!
We will be collecting school supplies at our Las Vegas office through August 20th.
Communities In Schools of Nevada is partnering with News 3, Lotus Broadcasting and Sam's Club to collect needed school supplies and uniforms to distribute to over 44,000 students in 43 schools statewide that CIS of Nevada serves.
Last year they filled three school buses with backpacks, uniforms and school supplies for all ages. This year, they need to fill even more so students in need can start off the year prepared and ready for success.
SUPPLIES NEEDED:
Backpacks (all ages)
Binders (1 "-2")
Composition notebooks
Spiral notebooks
• College-ruled
• Wide-ruled
Notebook paper
• College-ruled
• Wide-ruled
Pocket folders
Markers
Crayons
Mechanical pencils
Pencil sharpeners
Erasers/Glue
High lighters
Colored Pencils
*The students have more than enough pencil boxes/pouches and pens to last throughout the school year. Please provide only items listed above*
UNIFORMS and/or GIFT CARDS
(Elementary School & Middle School)
Polos
• Navy
• White
Pants
• Jeans
• Khaki
• Navy
CIS of Nevada is the local affiliate of the nation's leading dropout prevention program. We work on-site in schools to assess student's needs -from food, clothing and hygiene items, to mentoring and tutoring- and to make sure every student is empowered to stay in school and achieve in life. Your support, whether through donating money or supplies, or volunteering, is invaluable to students struggling with the many barriers to education caused by poverty.