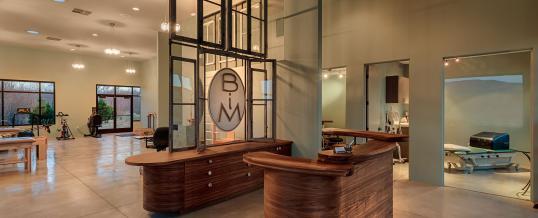 For the perfect building for healing, physical therapist Rhonda Fiorillo, M.P.T. moved her private practice Back in Motion Physical Therapy to 10789 Double R Blvd., Suite 100, Reno, NV 89521. For Fiorillo, the move wasn't about gaining more space. It was about relocating from a business location that had significantly shifted to an industrial area to the newly developed Reno Tahoe Tech Center office park in South Reno with good traffic visibility, access to Interstate 580 Freeway and lots of windows offering a therapeutic view of nature.
Previously, Fiorillo leased an office in Sparks and one in Reno. With an interest in architecture, she had designed and built out the space at each location. For her new office, she was again totally involved with the design process and started with a feng shui analysis for healing and health. "The new place is exactly what I wanted it to look like," said Fiorillo. "It doesn't feel smaller because everything functions so well."
To purchase the new office, Fiorillo was assisted by NSDC loan officer Greg McKay. "It was a seamless process," said Fiorillo. "NSDC was wonderful at facilitating the whole process to acquire the SBA 504 loan and a loan from Nevada State Bank."
Fiorillo looked at a lot of properties in Reno and then spent a year building out her new office space. The building's orientation followed what was recommended and the space is being optimized for health. There is a huge open lobby, lots of windows to let in nature, and specially designed treatment rooms. The environment is a beautiful, calm, healing space for patients. It has been created for people to enjoy and to support them in their journey to good health.
Fiorillo graduated from the University of Nevada, Reno in 1991 with a B.A. in Health Education. Afterwards, she attended College of Osteopathic Medicine of The Pacific in Southern California where she earned her Masters in Physical Therapy in 1994. Her first job was at a rehabilitation hospital in Reno working on a multi-disciplinary team treating both adult and pediatric patients with traumatic brain injuries. In 1996, she pursued her orthopedic and neurological interests in an out-patient setting at the rehabilitation hospital, where she began specializing in vestibular disorders. During this time, Fiorillo pursued her post-graduate training in orthopedic spinal dysfunction and joined a multi-disciplinary team of physicians in evaluating complex spine cases. She opened Back in Motion in 1996.
The business evaluates and treats patients with orthopedic problems, neurological diseases, women's health issues and vestibular disorders. Back in Motion accepts workers compensation, private insurance with more than 40 insurance carriers including Medicare and takes cash pay. Fiorillo has taken more 30 post graduate courses and been a guest lecturer in anatomy at the University of Nevada School of Medicine. For information, visit http://www.backinmotion.net.