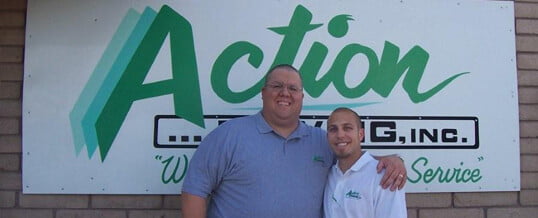 Nevada State Development Corporation (NSDC) partnered with JPMorgan Chase Bank, N.A. to assist AA Action Towing, Inc. dba Action Towing with an SBA 504 loan allowing John Howell and Robert Howell II, to own their property for the first time instead of leasing. The new location for the family-owned and managed business is 2511 Kiel Way, North Las Vegas, Nev.
Action Towing was started on Nov. 11, 1986, by Robert D. Howell, Sr. His son John Howell has worked for the company since May 1996 and his brother Bobby Howell since June 2003. They inherited the business in 2004 when their father passed away. About a year ago they began looking into purchasing property since their lease was coming due.
"We assembled a good team and everything went pretty smooth," said John Howell. "From the initial documents, Evan Dickson with NSDC and our banker Marcus Kline helped us hand-in-hand and made the process very easy."
"Our real estate person found the property, which had sat vacant for six years and been owned by a PVC pipe manufacturing company in North Las Vegas to the west of I-15," said Howell. "Our towing business used to have great visibility from I-15 because it butted up against the freeway at Sahara but it was property owning and the massive 19,000-square-foot warehouse that was most appealing."
Action Towing holds a monthly public car auction on the third Saturday at 1 p.m. and the move has allowed them to hold their monthly auctions inside with heaters and swamp coolers depending on the time of year instead of outside, as was done previously.
"While the land at both locations was relatively equivalent," said Howell, "Our old building was only 3,500 square feet and our new offices are more user friendly."  Some minor remodeling—refreshing paint, a new front counter and new window coverings—completed the transformation.
"This loan for $1,406,800 in partnership with JPMorgan Chase Bank, N.A. was a straight purchase for an existing building and property," said Evan Dickson, NSDC business development officer. "The bank amount was $703,400 and our SBA portion was $581,000 with a 5.698 percent rate."
Action Towing, offering 24-hour service, is a commercial towing, roadside and private impounding company servicing Clark County and surrounding counties in Nevada. They tow stranded motorists to repair shops and dealerships and provide tire changes, fuel delivery, lockouts and jump start when needed. They also tow illegally parked cars from private property or accidents and impound them. If people don't pay and retrieve their vehicles, they become part of a monthly public car auction held on the third Saturday of every month at 1 p.m. For more information, call 702-737-9100 or visit http://www.actiontowing.net.