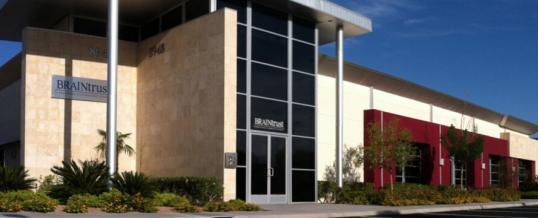 Nevada State Development Corporation (NSDC) partnered with lending partner Bank of America to assist with a SBA 504 loan for local advertising agency, BRAINtrust Marketing + Communications, allowing them to purchase a brand new 8,417-square-foot office building.
As one of the top 10 largest advertising agencies in Las Vegas, BRAINtrust, with the help of NSDC, and the SBA 504 loan program they were able to purchase their new building with a low, fixed 4.749 percent interest rate.
Expe­ri­enc­ing expo­nen­tial growth over the past five years, BRAIN­trust recently moved to a new agency office at 8948 Span­ish Ridge Avenue on the west side of the Las Vegas Val­ley. The build­ing more than dou­bled the office space the agency pre­vi­ously occu­pied.
When BRAINtrust partners Michael Coldwell and Kurt Ouchida wanted to purchase a building to grow their agency, they found their best option with NSDC. BRAINtrust, which was started in June 2006, now has 12 employees and plans to hire more people in the next two years. As an award-winning agency, the company provides a wide variety of marketing, advertising services and public relations for local and national accounts.